Celebrating 100 years in business!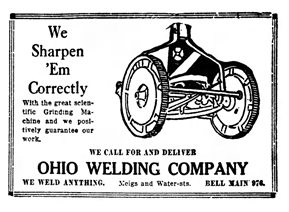 LEWCO, Inc. dates back to 1917 when the Ohio Welding Company was founded by C.F. Meyer. It was the first welding shop in the city of Sandusky, Ohio. The company specialized in welding repair work, serving the many factories in the surrounding area. Over the years the company evolved into also selling welding supplies and medical gases. In 1952 the Meyer family sold the welding shop part of their business to brothers Harold and William Grumney, who renamed it Lake Erie Welding & Fabricating. The welding supply & gas business became known as the O.E. Meyer Company, which still operates today in Sandusky, OH.
Around the time when the Grumney brothers took over, Lake Erie Welding operated out of a small 1,600 sq. ft. building and employed four people. In 1955 the company hired their fifth employee; a young man fresh out of U.S. Navy welding school by the name of Anthony ("Tony") Guerra. Eight years later, Tony bought into the business as a 50% partner and by 1973 he became the sole owner. Tony was excited about his new company. His work ethic and entrepreneurial spirit allowed him to see the business's potential for growth. One by one, he began hiring additional employees. He also invested in metal fabrication equipment allowing the company to not only provide welding repair services, but to also fabricate products such as steel hoppers, carts, machine bases, and a variety of other welded fabrications. One of the most interesting products of this era was a horse treadmill for exercising quarter horses. Over a period of 10 years or so Lake Erie Welding manufactured over 2,500 of these machines. In 1979 the company was named "Business of the Year" by the Sandusky Area Chamber of Commerce.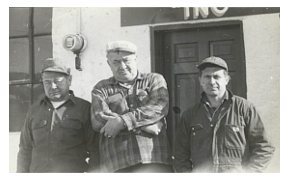 In the early 1980's two of Tony's sons, Ron and Jerry, joined the family business upon their graduation from college. At this time, Cedar Point Amusement Park was one of the company's largest customers. Lake Erie Welding was the first to install aluminum "Q-line" railings at the park and they provided all of the wrought iron fencing along the beach boardwalk, which can still be seen today. The northern Ohio automotive industry also provided significant business to Lake Erie Welding and many of those orders were for various types of conveyors. With that, an opportunity was identified to begin standardizing a line of conveyor equipment. Shortly thereafter, the company also found a niche in the chemical industry; manufacturing the first 55-gallon drum "Hot Box." This chemical industry niche and demand for conveyors from the automotive industry are the roots of LEWCO's two product lines today – Material Handling Conveyor & Industrial Ovens.
In 1985 Lake Erie Welding moved into a new 64,000 square foot manufacturing facility to accommodate growing customer demand. At that time the company employed 24 people. Within four short years, Lake Erie Welding outgrew its 64,000 sq. ft. facility and the company seized the opportunity to purchase the former Farrell-Cheek Steel Foundry property. Over the next two years, the property was completely transformed from an early 1900's vintage foundry into a modern 165,000 sq. ft. manufacturing facility, which remains LEWCO's current home today.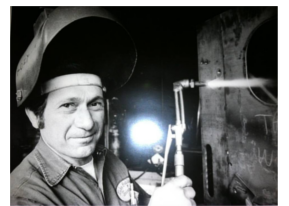 In the mid 1990's, after a trip to Korea in pursuit of international business, it became evident to the owners that the company name, Lake Erie Welding & Fabricating, no longer represented what they did. The company had evolved from a welding and fabricating shop into a manufacturer of standardized industrial equipment. Thus, 1996 the company name was changed to LEWCO, Inc. The trade names, "Lahr" and "Heat-Pro" were eventually phased out shortly thereafter.
In January of 2002, Tony Guerra retired after serving the company for 47 years. His sons, Ron and Jerry took over the family business and to this day remain enthusiastic about the company's potential for growth. In 2016, the need for additional manufacturing space was the stimulus behind a decision to re-acquire their former 64,000 sq. ft. facility on Ogontz St. This facility has been transformed into a focus factory for non-powered roller conveyor and related products. The combined facilities give LEWCO over 200,000 sq. ft. of manufacturing space.
Today, LEWCO continues to grow in serving customers around the world. The company employs over 190 people and 2018 planning has already begun to hire additional employees and make more capital investments. "As 2017 marks our 100th year in business, we'd like to say thank you. Thank you to our many long time loyal customers. Thank you to our hardworking employees who get the job done every day. And thank you to everyone who has believed, and continues to believe, in this company." – Ron & Jerry Guerra.