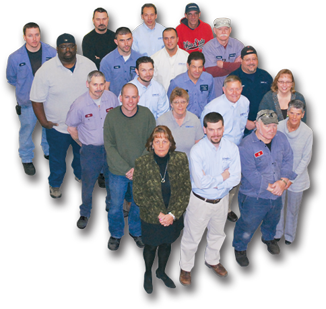 Located in north central Ohio, with three locations and over 980,000 sq. ft., our facilities house a complete professional staff of sales, engineering and skilled trade personnel and the most modern metal manufacturing equipment available. We utilize state of the art solid modeling design software and CAD/CAM processes including CNC laser cutting, CNC press brake, CNC turret punch, CNC sawing, CNC mill and robotic welding in the manufacturing of our quality products. LEWCO, Inc. is a world-class manufacturer of two quality product lines: Industrial Ovens and Unit handling Conveyor. Both product lines bring the LEWCO Value Proposition to market; quality products, on-time, at a competitive price.
---
Mission Statement
LEWCO, Inc. is a world-class industrial equipment manufacturer, focused on providing customer value, promoting the growth and well being of our people, and ensuring the financial strength and security of our organization.
---
LEWCO, Inc. Core Values
We strive to lead the industries in which we compete through continuous improvement of the LEWCO Customer Value Proposition. LEWCO's Customer Value Proposition is the summation of Product Quality, On-time Delivery, Customer Service and Price. Product Quality includes every detail of the physical product as well as LEWCO services. On-time Delivery applies to all customer deliverables including quotations, approval drawings, finished products and installations. LEWCO Customer Service reflects that our customers are a top priority. We are responsive, helpful and professional. We strive to be Price Competitive as evidenced by an ongoing effort to reduce cost. To achieve our mission, we recognize and commit to service our Internal Customers. Our people are the organization's greatest asset. We work to develop them and make them successful.